How much time and maintenance are required?

The most often asked question that we hear at putting-greens.com is "How much time is involved in maintaining a backyard putting green? Answer: The maintenance involved depends on how much you want to use the green and how good you want it to look and play. Maintaining a fast, great looking green will take dedication, physical work and constant observation. Trial and error will guide you most of the way until you become an experienced greenskeeper. If your only goal is to have a rough chipping green, then maintenance time is minimal .. cut weekly. Your results may vary, but if you actively use the green and want it in tip top shape, you will have to cut it every day or two, water regularly, and apply chemicals and top-dress monthly. For the right person, this can be a great hobby that will give you hours of backyard family fun, neighborhood golf competitions, and practice time that you just can't get anywhere. You should see your short game improve dramatically.

The maintenance time that you spend will be well worth the effort, and should be enjoyable to you. If you like to take care of your yard, gardens, or enjoy landscaping ... then the care of the green will be fun, challenging, and rewarding with a beautiful addition to your backyard landscape. We like to suggest that you are taking on a landscape hobby .. not a golf hobby. If you are truely happy at taking care of a manicured lawn or a prized garden on your land, then maintaining a golf green might be for you. Retired folks are a perfect fit. Other ideal backyard golfers: working men/women with families, etc. Instead of wishing you were out golfing, may nights you will want to rush home from work so that you can play with your kids on the golf green. It is a good substitute for really golfing. For a differing opinion check out this article by Jim Morris, published on the Ampac Seed Web Site with Permission from Turf Magazine.

We are also often asked by young golfers if building a green will improve their game (ala Phil Mickelson). Our "opinion" is that young golfers will get more out of spending time at the golf course or range. Unless they are also interested in careers in turfgrass management, the time and maintenance and substantial investment may be a little too much. If you are a heavy golfer, one who would rather be at the club all day playing matches ... then you should reconsider. The work involved in maintaining a green is not trivial, and not for someone who wants to cut his grass only once a week. But most of the work involved is preventative maintenance and viligance over the conditions of the turf. Since you have a relatively small green and only one (compared to golf courses), your actual physical maintenance time involved should be reasonable. Cutting should only take a few minutes every 2-3 days or whenever you want to play on the green. Other activities include Fertilization, Aeration, Top-Dressing, Herbicides, Fungicides and Pesticides. Here, to give you an idea of the time involved ... is our schedule for maintenance. Your requirements may differ, and it is important to know that many others have failed building putting greens because they didn't have the patience, time and knowledge necessary to have success. Our Instruction Manual covers all of the details of these very important and necessary maintenance techniques. Here are some time estimates:
| | | |
| --- | --- | --- |
| MAINTENANCE | INTERVAL | TIME REQUIRED |
| Mowing | Every 1-3 Days | 5-10 Minutes |
| Irrigation | Every 1-3 Days | Automatic Sprinkler |
| Fertilization | Monthly | 10-15 Minutes |
| Fungicide | Monthly | 30 Minutes |
| Herbicide | Spot Treat As Needed | 15 Minutes |
| Pesticide | Spot Treat As Needed | 15 Minutes |
| Core Aeration | Once a Year | 2-3 Hours |
| Top Dressing | 3-6 Times a year | 2 Hours |

Here is another (more humorous) recounting from one of our fellow backyard greenskeepers:


| | |
| --- | --- |
| Clear green of balls and flagstick | 2 mins |
| Gas up mower | 3 |
| Find gas can | 4 |
| Push mower from garage to green (uphill) | 3 |
| Start mower and warm up | 4 |
| Mow two strips around edge | 3 |
| Check out female jogger | 5 |
| Mow rest of green | 10 |
| Empty clippings over neighbors fence | 4 |
| Lug mower to garage (uphill) | 3 |

there you have it - 36.5 mins once you add in the sit-on-bench-and-drink-a-beer factor, make it an even hour.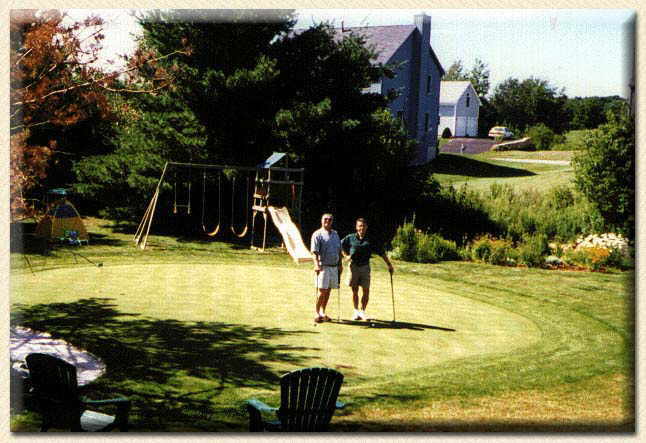 Backyard Putting Green Construction Manual

Copyright &copy 1998